I was just laid off from my job. What do I do?
First off, take a breath. Being let go from a job for any reason can be very upsetting. Know that you are not alone; many people are laid off from a job and go on to secure a new one. You did not do anything wrong; your layoff is not your fault. Employers lay off employees when there is not enough work for them to do. When you are laid off:
Reach out to your friends and family, your support system, to let them know you have lost your job. The chances are you will connect with someone how has gone through a layoff.
Reach out to your local employment services department to find out about applying for unemployment benefits.
If you received a severance package, the continuation of health or other benefits, or outplacement career services, make a plan for using them and completing any paperwork or other steps to get the most out of these benefits.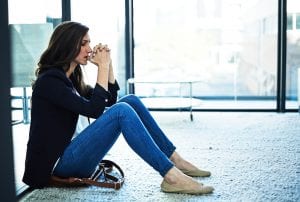 Is there a chance that I will get my job back?
It depends. If a seasonal slowing of business caused the layoff, you might be called back by your employer when the business picks back up. Sometimes layoffs occurred because the company eliminated a product or project. If that was the reason for your layoff, you might be able to apply for positions in another part of the company. If your company closed entirely or you were told this was a permanent layoff, then you will not be returning to your job, and it is time to look for a new one.
What benefits are available to me?
Your employer may provide you with some benefits to help you in your transition to a new job. During the layoff process, you probably had an individual or group meeting about services available to you. It is a good idea to take notes and collect any paperwork they offer to review the benefits they are providing. If you did not receive any paperwork or can't remember how to access these benefits, contact your company's HR department to clarify the process.
Some benefits you may be eligible for include continuation of health or other insurance, outplacement career services, and a severance package. Many people are eligible to continue their health insurance coverage through COBRA. Do some research into the health coverage available to you to determine what is best for your situation. Use any outplacement services your employer has offered.
You may also be eligible for unemployment benefits. Contact your state's employment development department as soon as possible to find out about services and begin any necessary application process. While you were working, both you and your employer were paying into the unemployment benefits system, so don't feel guilty about using these benefits now. During an economic downturn, many people will be applying for unemployment benefits. Be patient and persistent when it comes to getting your services. Take lots of notes during any conversation with the department and get things in writing as often as possible. Make sure to follow all the guidelines required for maintaining your unemployment benefits. You may be required to do specific job search tasks or apply for a certain number of jobs. Remember to document everything you do and follow all the rules.
How do I start looking for a new job?
Networking is the best way to find your next job. Let your network know you are looking for work. Develop or update your LinkedIn profile. Make sure your Facebook profile and activity look professional. Use Instagram and Twitter to find job leads by writing something like, "I'm in this city, looking for this type of job. Anybody have any ideas?" Be specific about what you're looking for and companies you're interested in when you network. 80% of all jobs come through networking, whether it's in person or through social media.
Ensure your resume is up to date with your employment information and skills. If you aren't sure how to create an interview-winning resume, consider enlisting the help of a resume writer. If you feel confident creating your resumes and cover letters, make sure to have a trusted proofreader look them over before sending them to prospective employers. If your resume is not professional and competitive, it won't generate interest.
What do I tell prospective employers about my layoff?
If a prospective employer does not ask why a job ended during an interview, you do not need to volunteer that information. When a potential employer does ask why you are no longer working, be prepared to explain. You can feel confident in knowing that being laid off was not your fault. Keep your answer simple. Say something like, "My department was eliminated when the company lost a major project." Employers know that layoffs are common and not a reflection of an employee's performance. They may have had to lay off employees in the past, so they will likely understand your situation.