I just got fired; what do I do now?
The first thing you want to do is give yourself some time to adjust. Losing a job can bring up all kinds of emotions, and many people experience grief after losing a job. Make space for those feelings but also know that you are not alone. People get fired every day, and most of them go on to find successful and fulfilling careers. Here are the steps to take a right after being fired:
Reach out to your friends and family, your support system, to let them know you have lost your job. The chances are good that some of them have had the same experience.
Reach out to your local employment services department to find out about applying for unemployment benefits.
Make sure to take care of your basic needs. If you received a severance package, the continuation of health or other benefits, or outplacement career services, make a plan for using them and completing any paperwork or other steps to get the most out of these benefits.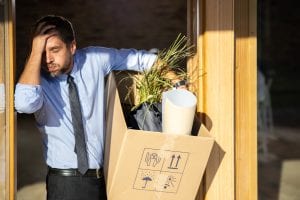 I think I am going to be fired. What should I do?
Since many people are fired during the course of their career, it is a good idea to be prepared. Employers do not like firing people and often feel guilty about it. You can use this to your advantage and negotiate for what you want and need. The things you can usually negotiate for during a termination meeting include a severance payment, continuation of healthcare or other benefits, and outplacement career services. Take some time to think about what you would need to get you through a search for a new job, and be prepared to ask for it. Research the benefits you would get if you accept an offer to resign instead of getting fired.
What if I feel I was wrongfully terminated?
If you feel you were wrongfully terminated, you need to decide whether you want to invest your time and effort pursuing legal remedies. If you decide you want to pursue a case for wrongful termination, hire a lawyer as soon as possible. Retain any documentation you have around your termination, and remember that you most likely will not have access to your work email account after you are terminated. Print out any relevant communications and bring them home with you if possible.
How do I find my next job?
Networking is the best way to find your next job. Let your network know you are looking for work. Develop or update your LinkedIn profile. Make sure your Facebook profile and activity look professional. Use Instagram and Twitter to find job leads by writing something like, "I'm in this city, looking for this type of job. Anybody have any ideas?" Be specific about what you're looking for and companies you're interested in when you network. 80% of all jobs come through networking, whether it's in person or through social media.
Ensure your resume is up to date with your employment information and skills that employers are seeking. If you aren't sure how to create an interview-winning resume, consider enlisting a resume writer's help. If you feel confident creating your resumes and cover letters, make sure to have a trusted proofreader look them over before sending them to prospective employers. If your resume is not professional and competitive, it won't generate interest.
What do I tell prospective employers about why I was fired?
Before interviewing with potential employers, ask yourself why you were fired. Were you hired for a job you did not have the skills to perform? Were you in a position that wasn't a good fit? Did you lose your job because you were underperforming? Because you didn't get to work on time?
If a prospective employer does not ask why a job ended during an interview you do not need to volunteer that information. When a potential employer does ask why you were terminated, put a positive spin on it. You could say, "I didn't appreciate the importance of being on time until I at my last job; I have learned the value of always being on time." If you were fired because you lacked skills, you could say, "I was hired to be a computer tech and realized my skills are in customer service. The part of the job I liked was helping people solve problems. I'm applying for a customer service position because that plays to my strengths."