Is it normal to feel upset about a job loss?
Losing a job can trigger some of the same emotions as a divorce or the loss of a loved one. Job loss can make you feel discouraged, lose your confidence, or feel overwhelmed by the idea of searching for a new job. These are all common emotions after losing a job through a layoff or a termination.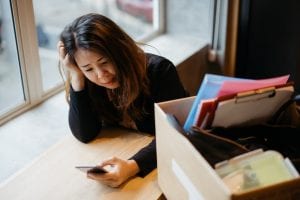 When you lose a job, you may miss your daily schedule, regularly seeing coworkers who were also friends, and the security of a paycheck. You may even blame yourself for the change in your employment status. The loss of a job is usually a result of something outside your control; an employer in a rush to hire did not determine if you had the right skills for the job, a change in management, fluctuations in the economy, or changes in your industry. Even if you feel you lost a job because of your actions, you have the power to change your behaviors or to acquire the knowledge or skills needed to improve your performance at a new job.
Will my emotions keep me from finding a new job?
If you don't address the emotions you experience after a job loss; they can impact your job search. If the idea of looking for a new job is overwhelming, it can be hard even to start your search. If you feel like you are to blame for your job loss, you may not have the confidence to apply for new jobs. If this lack of confidence is reflected in your resume, cover letters, and interview, it can negatively impact your job search.
Watch for the overuse of coping mechanisms after a job loss. If you find yourself doing things like eating, drinking alcohol, watching TV, or scrolling through social media more than you before your job loss, be aware that this may result from feeling overwhelmed by the loss of your job. Abuse of any coping mechanism can hinder your job search. If you feel like you cannot control these behaviors, consider seeking help from a counselor or peer support group.
What can I do to feel less overwhelmed?
Break things down. Set a schedule and have daily and weekly goals. Treat finding a job as your new job. Keep regular work hours similar to your previous job. If you are used to working from 9:00 am to 5:00 pm, work that schedule. Get dressed and report to work at the appropriate time. You are your boss, so be a good one, hold yourself accountable but give yourself reasonable expectations.
Create achievable goals for each day and each week of your job search. These goals should include a timeline for preparing all your job search documents (like a resume and cover letter), a certain number of applications to submit, people to contact within your network, and informational interviews to hold. Review your accomplishments at the end of each day and each week. Give yourself credit for completing these tasks and meeting your goals.
What can I do to feel more confident?
Get started. Take a look at your most current resume and congratulation yourself for the things you have already accomplished in your career. The job you just lost may not have been the right match, but you probably learned a lot. Remind yourself of the skills, abilities, and knowledge you will bring to a new employer. If you start reading job descriptions and think, "I can't do all that," understand it is rare that the person hired can do everything in the job description; most new hires can do about 80% of what is listed. If you do have gaps in your skillset, consider taking a class or getting a certification in your career field.
How do I tackle the search for a new job?
Create realistic expectations. Job searches can be challenging. It might take months to get the right job. Allow yourself some time to dream. Losing a job doesn't have to be all negative; it may be the time to start a new career or find a more rewarding job. Spend some time thinking about what you like and dislike in a job and look for positions that are a good match. Reach out to talk to people in the types of jobs you are looking for or in companies where you would like to work. Update your resume and any other job documents needed in your field. Start applying for jobs and networking with your personal and professional contacts. Practice your interview skills with a trusted friend or family member.
If you are struggling with where to start or don't know how to investigate a new career field, consider working with a career counselor.
How can I support a friend or family member who lost a job?
There are many things you can do to help a loved one experiencing a job loss. Focus on something that will help that person feel good about themselves. Focus on the future and what is ahead for this person, not the past. Give them positive and encouraging feedback about their job search. If you have the skills, offer to proofread their resume or research companies where they would like to work. Offer to look after children if they have an interview. Bring them a healthy meal if you know they are busy with applications or are taking an intensive certification course. Listen for what they need and respond with what you can do. You cannot conduct someone else's job search, but you can support them along the way.
A Special Note About COVID-19
During the COVID-19 pandemic, many people are feeling additional stress during a period of unemployment. Some of the typical ways of getting support, like meeting a friend for coffee or visiting with family members, are temporarily unsafe. It is essential to acknowledge that the pandemic has dramatically changed our routine, and it has caused many people to lose their jobs at the same time. It may take longer to find a new job, and the work environment might look different for a long time to come, but you can still take control of your job search and take care of your emotional health at the same time.